Friday
November 22, 2019
8:00 a.m. – 5:00 p.m.
Englewood Hospital
350 Engle Street
Chiang Auditorium
Englewood, NJ 07631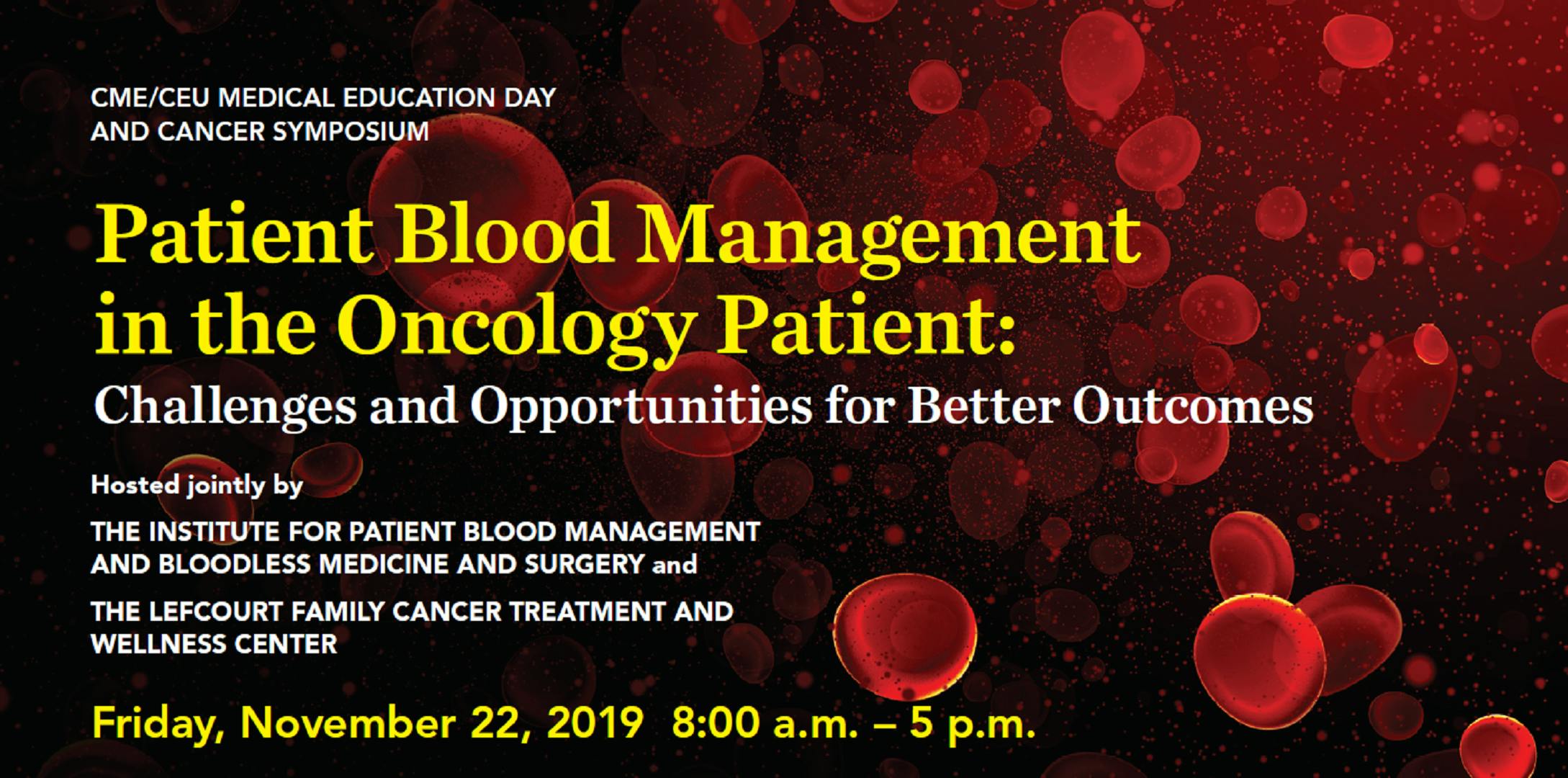 CME/CEU MEDICAL EDUCATION DAY AND CANCER SYMPOSIUM

Patient Blood Management in the Oncology Patient: Challenges and Opportunities for Better Outcomes
Hosted jointly by The Institute for Patient Blood Management and Bloodless Medicine and Surgery and The Lefcourt Family Cancer Treatment and Wellness Center
Audience: Physicians, nurses, and other healthcare professionals and volunteers. 
Presenters:
IRWIN GROSS, MD
Medical Director of Transfusion Services and Patient Blood Management
Eastern Maine Medical Center
The Overlooked Opportunity: Managing Iron Deficiency and Anemia in Cancer Patients
PATRICIA FORD, MD
Oncologist, Clinical Professor of Medicine
Perelman School of Medicine, University of Pennsylvania
Treating Solid and Liquid Cancer in a Transfusion-Free Model
TINA DEMARCO, MSN, RN, NP-C, AOCNP
Clinical and Administrative Director
Infusion Center, Englewood Health
The Role of Patient Blood Management in the Outpatient Oncology Setting
NEIL BLUMBERG, MD
University of Rochester Medical Center
Transfusion Immunomodulation and Patients with Cancer
NIMESH NAGARSHETH, MD
Director of Gynecologic Oncology and Director of Robotic Surgery
Englewood Health
Patient Blood Management Advances in Women's Cancer
MAZYAR GHANAAT, MD
Program Director, Urologic Oncology
Englewood Health
Patient Blood Management and Treatment Options in Patients with Urologic Malignancies
STEVEN BROWER, MD
Chief of Surgical Oncology
Englewood Health
Effect of Perioperative Blood Transfusion and Autotransfusion on Tumor Recurrence and Survival in GI Cancer Patients
YOUNG-WOO KIM, MD, PHD, FRCS
Professor, Department of Cancer Control and Population Health, National Cancer Center Graduate School of Cancer Science and Policy, and Center for Gastric Cancer, National Cancer Center, Goyang, Korea
Patient Blood Management Strategies in Oncology: A View From Across the World
CME/CE Credits
Six (6) Category 1 CME credits and 6.0 nursing credits provided by TeamHealth. TeamHealth Institute is accredited by the Accreditation Council for Continuing Medical Education (ACCME) to provide continuing medical education for physicians.
Questions? Call 201-894-3891.
Back to calendar