Saturday
October 7, 2023
8:00 a.m. – 5:00 p.m.
Englewood Health - Main Campus
350 Engle Street
Englewood, NJ 07631
---
Back to calendar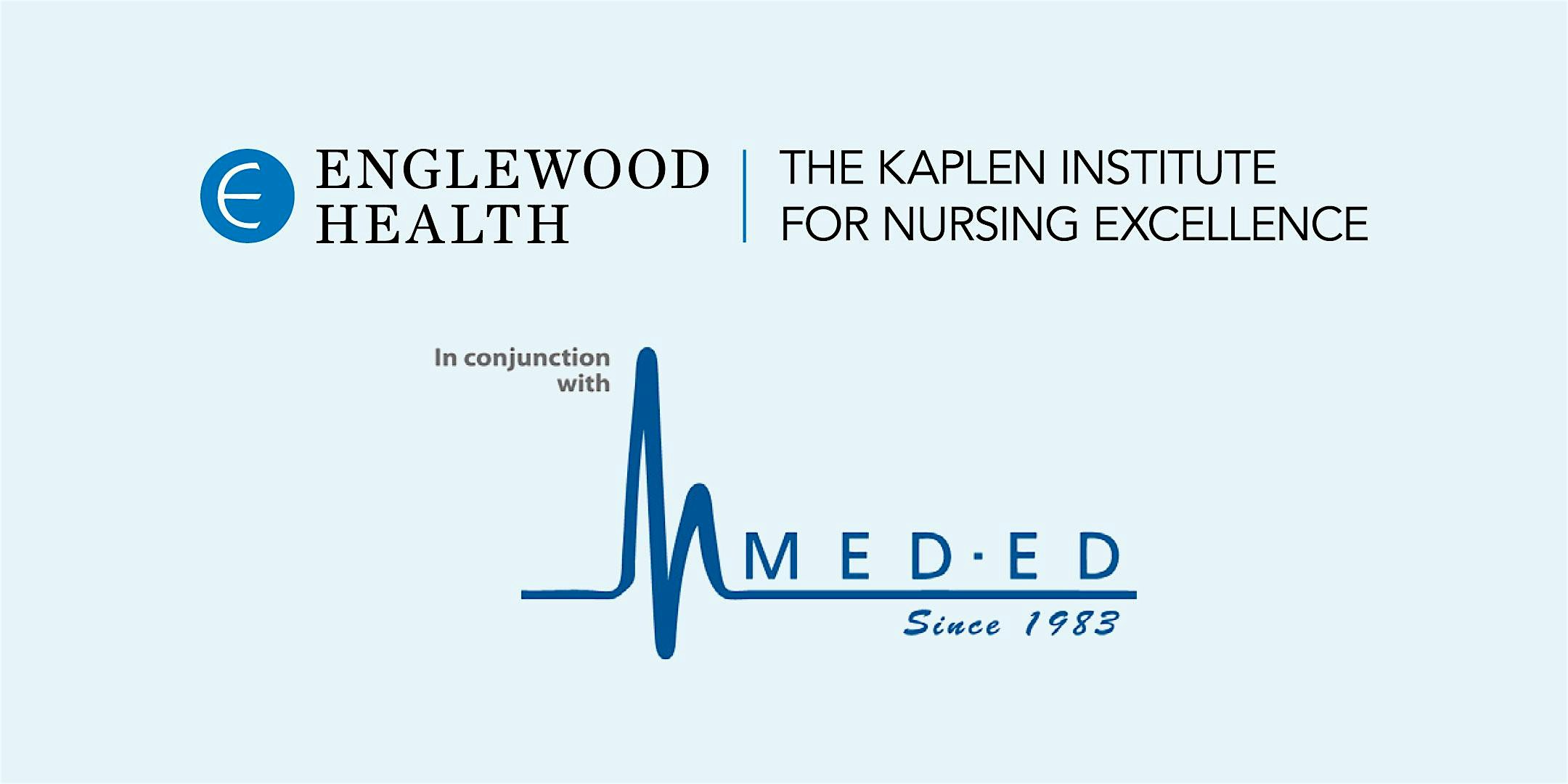 Presented by The Kaplen Institute for Nursing Excellence at Englewood Health in conjunction with MED-ED., Inc.
Saturday, October 7 and Sunday, October 8, 2023
CEN® Exam Review
Sign-in begins at 7:30 a.m.
Each day includes a one-hour lunch (on your own), as well as a morning and afternoon break of 15 minutes each. The order of lectures presented and break times may vary according to speaker preference.
DAY 1, SATURDAY, OCTOBER 7 - 8:00 a.m. to 5:00 p.m.
8:00 AM: CEN Exam Process
Review of Exam | Test-Taking Strategies | Certification and Re-Certification
8:30 AM: Professional Issues
Stabilization and Transport | End-of-Life Issues | Legal Issues | Evidence-Based Practice and Research | Disaster Planning | Critical Incident Stress Management | Ethics
10:00 AM: Break
10:15 AM: Shock
Hypovolemic Shock | Cardiogenic Shock | Obstructive Shock | Distributive Shock
11:15 AM: Neurological Emergencies
Headaches | Stroke | Intracranial Trauma | Spinal Cord Injury
12:30 PM: Lunch
1:30 PM: Environmental Emergencies
Heat and Cold Related Illnesses | Burns | Submersion and Diving Injuries | Animal Injuries
2:30 PM: Toxicological Emergencies
Toxicological Treatment Modalities | Review of Common Toxicological Agents
3:15 PM: Break
3:30 PM: Medical Emergencies
Infectious Diseases | Endocrine Disorders | Hematological Disorders
5:00 PM: Adjourn
Day 2, SUNDAY, OCTOBER 8 - 8:00 a.m. to 5:00 p.m.
8:00 AM: Respiratory Emergencies
Disorders of the Upper and Lower Respiratory Tract
9:30 AM: Break
9:45 AM: Cardiovascular Emergencies
Coronary Artery Disease | Other Disorders of the Heart | Peripheral Vascular Diseases
11:15 AM: Gastrointestinal Emergencies
Medical Disorders Common to the GI Tract | Traumatic Injuries to the GI Tract
12:00 PM: Lunch
1:00 PM: GU, OB and GYN Emergencies
Disorders of the Male and Female GU Tract | Renal Disorders | Obstetrical Complications | Care of the Woman and Infant During and After Emergency Delivery | Gynecological Presentations | STDs
2:00 PM: Orthopedic and Wound Emergencies
Injuries to Bones and Joints | Compartment Syndrome | Fat Emboli
3:00 PM: Break
3:15 PM: Maxillofacial Emergencies
Ocular Emergencies | Auricular Emergencies | Nasal Emergencies | Mouth and Throat Emergencies | Facial Trauma
4:15 PM: Psychological-Social Emergencies
Anxiety Disorders | Psychotic Disorders | Affect Disorders | Substance Abuse | Maltreatment Abuse
5:00 PM: Adjourn
Accreditation
RN/LPN/LVN/Other: 15 Contact Hours
MED-ED, Inc is accredited as a provider of nursing continuing professional development by the American Nurses Credentialing Center's Commission on Accreditation.
MED-ED, Inc. is an approved provider by the following State Boards of Nursing: Florida/FBN 50-1286, Iowa/296, California #CEP10453.
If your profession is not listed, we suggest contacting your board to determine your continuing education requirements and ask about reciprocal approval. Many boards will approve this seminar based on the accreditation of the boards listed here.
Speaker
Melissa Weir, PhD, MSN, BSN, RN, CEN, CPEN, CNE
Dr. Weir has earned a PhD in nursing education and a Master's degree in science with a specialization in community-health nursing and nursing education. She has been a pediatric and adult-trauma ER nurse since 1990. Melissa has also practiced as a pediatric med-surg nurse as well as a home-health nurse. She has served as a clinical educator and an academic-nurse faculty member. Melissa is published as an item writer and editor for various CEN and CPEN certification review textbooks, and she has taught PALS, ACLS, ENPC, TNCC, and CATN. She has developed pediatric emergency nurse intern programs for new graduates as well as experienced nurses new to the specialty. Coordinating CEN and CPEN review courses, Melissa enjoys the challenges of various learning environments and finding creative, entertaining ways to interact with and inspire adult learners. She shares her knowledge in a fun and stimulating manner, making it easy to receive and retrieve.
For complete biography, please visit MedEdSeminars.net.
MED-ED reserves the right to substitute an equally qualified speaker if necessary.
Course Overview
This course is a review of emergency nursing designed to assist the participant in successfully obtaining CEN certification. The course offers lectures, graphics, videos, and practice questions in many of the areas that are tested on the CEN Exam. This review will provide not only a knowledge base for successfully completing the exam, but also a foundation for further study as the participant works toward emergency nursing certification.
Why Be Certified
Successfully completing the Certified Emergency Nurse (CEN) Exam is a challenge that has been completed by only a minority of emergency nurses. Successful completion of this exam exhibits to others that the bearer has demonstrated a knowledge base in the specialty of emergency nursing that exceeds his or her peers.
Program Learning Outcomes
This program prepares the learner to:
Discuss priorities of the primary and secondary assessment of patients in presenting to the emergency department.
Describe basic principles of disaster management.
Analyze the effectiveness of patient or family education in a clinical scenario.
Discuss the basic principles of safe interfacility transfer.
Describe anticipated assessment findings of patients with selected respiratory, medical, cardiovascular, neurologic, toxicologic, gastrointestinal, and genitourinary emergencies.
Plan and prioritize interventions of patients with selected respiratory, medical, cardiovascular, neurologic, toxicologic, orthopedic, psychiatric, or gastrointestinal emergencies.
Select appropriate triage categories for patients in clinical scenarios.
Differentiate cardiogenic, hypovolemic, and distributive shock with regards to assessment and management.
Registration Information
Tuition
Includes Electronic Program Manual and CE Certificate
Englewood Health Employees (FT/PT)
Complimentary for both days
Englewood Health Per Diems
$130 for both days
$65 for one day
Non-Employees
$250 for both days
$125 for one day
Location
Englewood Health - Main Campus
350 Engle Street
Englewood, NJ 07631
Questions
Email the Center for Clinical Practice at ccp_center@ehmchealth.org or call 201-894-3320.
Back to calendar