Saturday
November 5, 2022
8:00 a.m. – 5:00 p.m.
This is an online event.
---
Back to calendar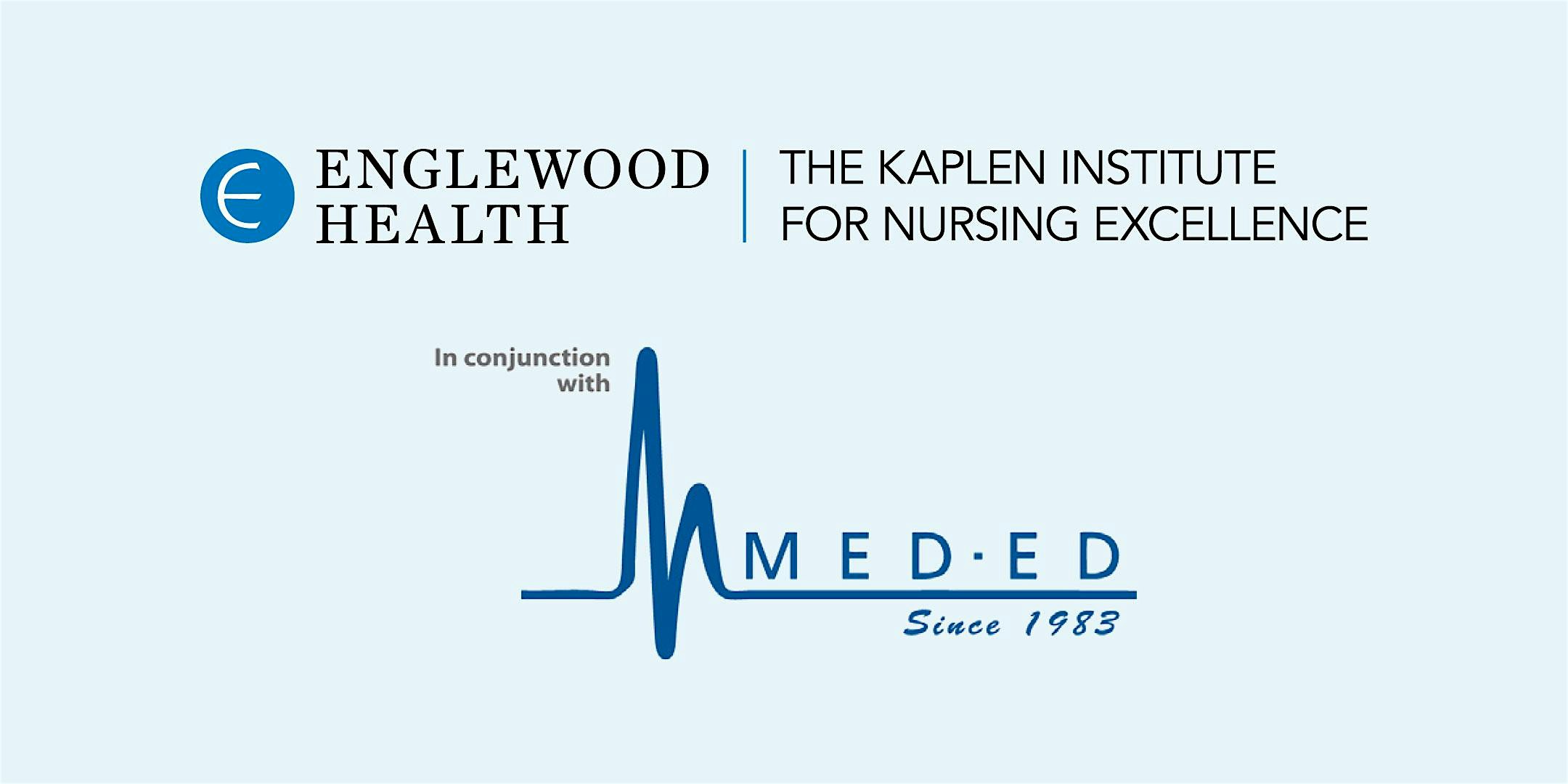 Presented by The Kaplen Institute for Nursing Excellence at Englewood Health in conjunction with MED-ED., Inc.
Saturday, November 5 and Sunday, November 6, 2022
CEN® Exam Review Webinar
Sign-in begins at 7:30 a.m.
Each day includes a one hour lunch break, as well as a morning and afternoon break of 15 minutes each. The order of lectures presented and break times may vary according to speaker preference.
Day 1, Saturday, November 5 - 8:00 a.m. to 5:00 p.m.
CEN Exam Process
Professional Issues
Shock
Neurological Emergencies
Environmental Emergencies
Toxicological Emergencies
Medical Emergencies
Day 2, Sunday, November 6 - 8:00 a.m. to 5:00 p.m.
Respiratory Emergencies
Cardiovascular Emergencies
Gastrointestinal Emergencies
GU, OB and GYN Emergencies
Orthopedic and Wound Emergencies
Maxillofacial Emergencies
Psychological-Social Emergencies
Accreditation
RN/LPN/LVN/Other: 15 Contact Hours
MED-ED, Inc. is accredited as a provider of continuing nursing education by the American Nurses Credentialing Center's Commission on Accreditation (ANCC).
MED-ED, Inc. is an approved provider by the following State Boards of Nursing: Florida/FBN 50-126, lowa/296, California/#CEP10453.
Speaker
Michael D. Gooch, DNP, APRN, CCP, ACNP-BC, FNP-BC, ENP-BC, ENP-C, CEN, CFRN, CTRN, TCRN, NRP
Dr. Gooch brings over 20 years of nursing and EMS experience to MED-ED's seminars. He has worked in a variety of clinical settings that range from emergency nursing and primary care to a Level I Trauma Center and include ground and air medical transport. Michael received his MSN from Vanderbilt University in Nashville, TN, where he focused on emergency and trauma care.
For complete biography, please visit MedEdSeminars.net.
MED-ED reserves the right to substitute an equally qualified speaker if necessary.
Course Overview
This course is a review of emergency nursing designed to assist the participant in successfully obtaining CEN certification. The course offers lectures, graphics, videos, and practice questions in many of the areas that are tested on the CEN Exam. This review will provide not only a knowledge base for successfully completing the exam, but also a foundation for further study as the participant works towards emergency nursing certification.
Why Be Certified
Successfully completing the Certified Emergency Nurse (CEN) Exam is a challenge that has been completed by only a minority of emergency nurses. Successful completion of this exam exhibits to others that the bearer has demonstrated a knowledge base in the specialty of emergency nursing that exceeds his or her peers.
Program Learning Outcomes
This program prepares the learner to:
Discuss priorities of the primary and secondary assessment of patients in presenting to the emergency department.
Describe basic principles of disaster management.
Analyze the effectiveness of patient or family education in a clinical scenario.
Discuss the basic principles of safe interfacility transfer.
Describe anticipated assessment findings of patients with selected respiratory, medical, cardiovascular, neurologic, toxicologic, gastrointestinal, and genitourinary emergencies.
Plan and prioritize interventions of patients with selected respiratory, medical, cardiovascular, neurologic, toxicologic, orthopedic, psychiatric, or gastrointestinal emergencies.
Select appropriate triage categories for patients in clinical scenarios.
Differentiate cardiogenic, hypovolemic, and distributive shock with regards to assessment and management.
Registration Information
Tuition
Includes Electronic Program Manual and CE Certificate
Englewood Health Employees
Complimentary for both days
Non-Employees
$225 for both days
$125 for one day
Webinar Presented Via Zoom
Webinar access information and instructions will become available following registration.
Questions
Email Briana Kushner at briana.kushner@ehmchealth.org or call 201-894-3320.
Back to calendar