Wednesday
October 26, 2022
8:00 a.m. – 4:30 p.m.
This is an online event.
---
Back to calendar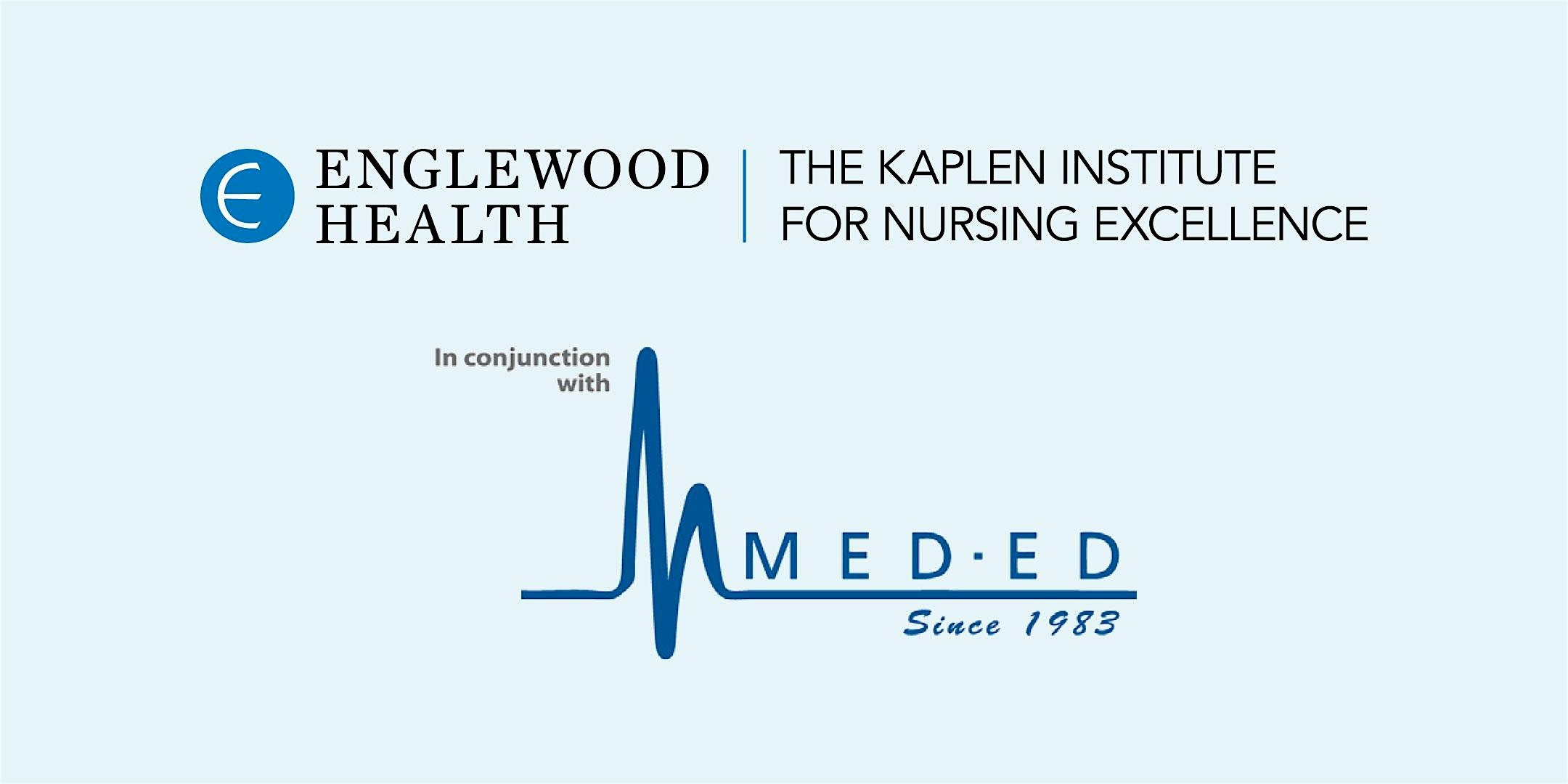 Presented by The Kaplen Institute for Nursing Excellence at Englewood Health in conjunction with MED-ED., Inc.
Wednesday, October 26 and Thursday, October 27, 2022
Low Risk Neonatal Nursing Exam Review Webinar
Sign-in begins at 7:30 a.m.
Each day includes a one hour lunch break, as well as a morning and afternoon break of 15 minutes each. The order of lectures presented and break times may vary according to speaker preference.
Day 1, Wednesday, October 26 - 8:00 a.m. to 4:30 p.m.
Welcome and Course Overview
Maternal Risk Factors
Fetal Circulation and Transition to Extrauterine Life
Physical Assessment and Gestational Age Assessment
Thermoregulation
Neonatal Fluid Balance
Neonatal Enteral Nutrition
Q & A Session
Day 2, Thursday, October 27 - 8:00 a.m. to 4:30 p.m.
Welcome and Course Overview
Glucose Metabolism
Sepsis
Gastrointestinal Conditions
Arterial Blood Gases
Respiratory Diseases and Modalities
Hematological Conditions
Cardiac Assessment of the Newborn
Q & A Session
Accreditation
RN/LPN/LVN/Other: 14 Contact Hours
MED-ED, Inc. is accredited as a provider of continuing nursing education by the American Nurses Credentialing Center's Commission on Accreditation (ANCC).
MED-ED, Inc. is an approved provider by the following State Boards of Nursing: Florida/FBN 50-126, lowa/296, California/#CEP10453.
Speaker
Patricia A. Scott, DNP, APRN, RNC-NIC, NNP­-BC, C-NPT
Patti is the coordinator of the advanced practitioner group for Pediatric Medical Group in Nashville, TN, as well as the coordinator of the neonatal transport service at Centennial Medical Center, also in Nashville. She is an assistant professor of nursing at Vanderbilt University School of Nursing, teaching the Neonatal Nurse Practitioner and Doctor Nursing Practice courses. She is also a preceptor for NNP students in the clinical area.
Patti is a member of the National Association of Neonatal Nurses and the Academy of Neonatal Nursing. She is a regional trainer for the American Academy of Pediatrics' Neonatal Resuscitation Program and a national faculty member and lead instructor for the STABLE Program. Patti is also an affiliate member of the American Academy of Pediatrics' Section of Transport Medicine and Sigma Theta Tau National Nursing Honor Society. She has developed and continues to coordinate and provide numerous neonatal educational courses for staff.
For complete biography, please visit MedEdSeminars.net.
MED-ED reserves the right to substitute an equally qualified speaker if necessary.
Course Overview
This course is designed for nurses who wish to take the NCC Certification Examination to obtain RNC-LRN designation. The course will focus on core concepts that are essential for caring for low-risk newborns. Course content has been designed specifically around NCC test content outlines and competency statements. Preparation is recommended prior to participation in this course. Recommended study resources, exam outlines, and associated competencies can be found online at www.nccwebsite.org.
Program Learning Outcomes
This program prepares the learner to:
Describe the Low Risk Neonatal Nursing Exam, test plan, and the practice requirements to sit for the exam.
Construct a study plan for the exam based on understanding the blueprint and domains of practice covered.
Identify common mistakes and pitfalls that are made during studying and testing for the exam.
Recall the core components covered in the exam through didactic supplementation and test questions.
Registration Information
Tuition
Includes Electronic Program Manual and CE Certificate
Englewood Health Employees
Complimentary for both days
Non-Employees
$225 for both days
$125 for one day
Webinar Presented Via Zoom
Webinar access information and instructions will become available following registration.
Questions
Email Briana Kushner at briana.kushner@ehmchealth.org or call 201-894-3320.
Back to calendar